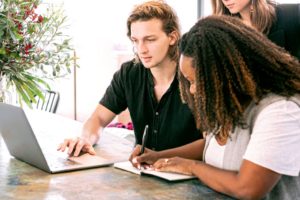 Modern businesses are driven by marketing. However, many marketing teams report that it's challenging to connect organizational strategy to specific marketing initiatives.
This is where a marketing operations roadmap becomes essential to your team's success.
A marketing roadmap captures your high-level strategy to show the tasks required to achieve set goals. It's a way for your entire organization to visualize how marketing activities will meet a set of objectives.
Today, most marketing teams remain reactive, continually shifting priorities and racing to meet deadlines. It's difficult to decide where to put your focus longer-term when you're bogged down in everyday activities. You don't know whether your team's work is helping your company's bottom line or not.
A useful marketing operations roadmap will help you organize the chaos—and make it look intentional! It will define the goals you will accomplish and tells how you will get where and when. If your team is clear on what they wish to achieve, your roadmap will also help communicate its overall strategic direction. It will align any cross-functional teams around an integrated plan.
If you're new to marketing or looking for ways to streamline your marketing operations, keep reading for a guide to marketing operations tasks, and learn how to build your marketing roadmap to success.
What Is Marketing Operations?
Marketing operations refers to the elements that combine to ensure consistent marketing results and performance. These elements include automation technology, analytics and reporting, marketing professionals, and others.
These factors serve as the foundation for marketing. The elements work in tandem to deliver more efficient, end-to-end marketing optimization. The ultimate goal of marketing operations is to realize the desired marketing results.
Now, the role of marketing operations is expanding—especially within organizations that create value for clients. The marketing operations team now includes alignment, accountability, and agility alongside campaign automation and financial governments in these companies.
By incorporating marketing operations into your existing structure, you can create a more effective marketing department. You do this by creating and managing the processes for monitoring progress, setting performance expectations, and measuring results.
Take it one step further by expanding the role to include process and technology optimization in addition to performance targeting skills. Then, your marketing team can level up in its performance management journey.
Who Is Responsible for Marketing Operations?
The range of professionals responsible for marketing operations efforts is wide. They work together to bring all of the marketing elements together and implement it like a well-oiled machine.
Marketing operations professionals often have an impressive skillset they call on to guide marketing with large amounts of data.
Some roles you may find on a marketing operations team include:
Director of Marketing Operations
Marketing Operations Associate
Marketing Operations Specialist
Marking Operations Manager
Marketing Administrative Assistant
Special Events and Marketing Programmer
Now that you have a better understanding of marketing operations let's discuss the main components.
Marketing Analytics and Reporting
A marketing team can't guide various marketing activities effectively without sophisticated analysis and reporting. When activities are correctly measured and managed, professionals can sort through the corresponding data. They do so to forecast results, assess performance, and make vital decisions for the marketing department.
Typical marketing and analytics and reporting tasks that are routine for marketing operations teams include:
Using analytics to forecast future performance
Using analytics to shape future actions
Creating dynamic dashboards to view the information in new ways
Preparing reports to measure performance
Pinpointing and diagnosing changes in performance
Presenting key findings to stakeholders
Best Practices
When considering analytics and reporting, there are some best practices to follow. Use these tips to shape your marketing activities.
Monitor Correct Metrics
The metrics that are important to you will vary by campaign. Before running each campaign, ensure you identify corresponding metrics and track them religiously over time. Examples of campaigns with an analytics component include:
Offline marketing
Social media
Email marketing
PPC
Content marketing
Use Dashboards
When you're tracking data from multiple campaigns, it's easy to become confused. Create a custom dashboard to set your team up for success.
These dashboards will enable your team to operate as effectively and efficiently as possible. Everyone in your organization can view this dashboard to understand which metrics have been incorporated and how they impact customer engagement and the bottom line.
Become Masters of Data Visualization
Data is useless if you can't understand it. And once you know it, it can't benefit anyone else until those you share it with can understand it, too.
To avoid miscommunication or confusion, your team will need to get really good at visualizing data. Data visualization, in a nutshell, is the ability to display data graphically in images. You can take complex data and share it in this format to show it cleanly to your stakeholders.
How to Excel in Analytics and Reporting
To excel in this area, you must have the ability to identify and utilize a suite of critical resources. To analyze and report data effectively, you'll need sophisticated analytics tools, software to edit reports, and communication tools to share your findings.
Tool Management
Finding, implementing, and maintaining the right technology assets is vital to the success of marketing operations. Tools are continually changing because technology is evolving every day, making tech stack management no easy task.
Even small upgrades can negatively affect the balance of your delicate tech stack.
Example tech stack management tasks include:
Evaluating the appropriateness of new tools
Maintaining accounts/permissions
Updating and managing existing tools
Troubleshooting and contact support
Best Practices
To improve your technology management activities, you'll want to avoid overlapping, plan for long-term stability, and manage your costs.
Check for Overlapping Functionality
According to HubSpot, the average marketer uses more than 12 different tools to manage campaigns and data. If you're managing accounts on behalf of your clients, you'll have a dizzying amount of tools and features on your hands.
The potential for overlapping features is high. Not only could you be wasting resources, but you could also affect the profitability of future projects.
As you're considering new tools, book demos to get an in-depth look at a product's functionality. Ask yourself if you're using anything that provides similar features. You shouldn't buy something you already have and will not use.
Plan for Upcoming Needs
When managing your tech stack, you must keep an eye on the future to plan ahead for upcoming needs. Developing a marketing operations roadmap will help you seamlessly incorporate new tools and features along the way.
If you don't plan, you may run into issues with your tools not working well together, which will confuse everyone.
Assess the ROI
With so many technology options, it's essential to assess each one regarding the return on investment (ROI) they deliver. Don't allow the expenses associated with your tech stack to mount up and utilize a significant percentage of your budget.
How to Excel in Technology Management
When it comes to technology management in marketing operations, you'll need a few crucial resources to succeed.
These essential resources include a clear look at your available options, quality tech tools in each category, and a technology roadmap.
Marketing Compliance
Today, marketing departments are delivering more output than ever before. That's why it's imperative to pay attention to compliance.
A marketing operations team is responsible for ensuring that all collateral is compliant with any guidelines in place.
The critical tasks that encompass marketing compliance consist of:
Evaluating and approving creative content
Obtaining approval from key decision-makers
Sourcing review and approval tools
Best Practices
Marketing compliance can be a tough element of marketing operations, as there are always gray areas for compliance. You should develop a review and approval workflow, stay on top of internal and external rules, and always keep stakeholders in the loop.
Develop an Effective Workflow
First, create a smooth review and approval process and begin incorporating it into your projects. Then your team can work methodically to be sure that compliance is never overlooked.
Know the Rules
Marketing compliance must adhere to internal and external guidelines—as a marketing professional; it's vital to cover your bases. Keep a list of known rules in a location accessible to the entire team. Regularly review them as a team, so everyone stays sharp on compliance.
Never Leave Compliance to Chance
You can never overcommunicate, so it's essential to involve all of your projects' appropriate stakeholders. Stakeholder management ensures that compliance is never an afterthought.
How to Excel in Compliance Management
To guarantee success in marketing compliance, you'll need a powerful review and approval workflow, project management tools, and shared documents to outline any rules and regulations.
Project and Process Management
With so many campaigns, reports, data, and stakeholders, marketing projects are often complex. To manage them effectively and keep your team happy and productive, you must take marketing project and process management seriously.
When implementing marketing project and process management, these are the common tasks you'll encounter:
Stakeholder management
Conception and implementation of workflows
Collecting and processing feedback
Developing new projects
Onboarding new clients
Best Practices
This type of marketing management is a delicate science. If you want to succeed, you must keep up with current trends, techniques, and best practices. These include using the correct software, applying the right methodology, and continually evolving.
Use Robust Project Management Tools
When there are dependencies between team members, project and process management quickly becomes complex. Using the right software will benefit your future projects.
Incorporate the Right Methodology
There are several known marketing project management methodologies, and these evolve over time. You must evaluate them to decide which to apply to your projects.
In recent years, Agile Methodology has been popular. This is a people- and results-focused approach to software development that considers the rapidly changing world. It's built on adaptive planning, short delivery times, and self-organization.
Regularly Seek Knowledge
We've already established that the best practices in this area are continually evolving. Marketing experts regularly share insights and tips—don't take this free knowledge for granted.
Stay on top of the latest trends by keeping an updated list of trusted sources. Then regularly seek knowledge so you can keep polishing up your skills.
How to Excel in Project and Process Management
If you're looking to supplement your project and process management skills, you'll need to regularly project and process management tools and use templates and outlines. You'll also need excellent communication tools, as well as reporting templates and software.
Benefits of a Marketing Operations Roadmap
Now that you know what marketing operations entail, are you asking, "Do I need a marketing roadmap?"
Wait, what is a marketing operations roadmap?
A marketing roadmap is a visual way to track and communicate the progress of your marketing efforts. Each roadmap you create will have a unique purpose depending on the audience you're targeting, but the benefits are the same.
Alignment
Your marketing efforts are useless if your team isn't on the same page. Rally your marketing and sales teams around your marketing strategy goals, then work together to achieve those goals.
Coordination
Build a marketing roadmap for each team program, customer segment, and function so each group can deliver on schedule.
Visibility
Having a roadmap allows you to provide all stakeholders a look at which campaigns are in progress and when new products will launch.
Impact
You can easily track campaign progress and show your marketing activities' force against overall business objectives with a roadmap.
Communication
Marketing roadmaps allow you to share progress among internal teams and leadership easily.
Why Do You Need One?
Every successful marketing initiative must begin with a clearly defined set of goals and a strategic vision. It doesn't matter if you're rolling out an elaborate campaign, publishing a piece of thought-leadership content, or launching your company's first project.
You must understand what you need to accomplish and clearly communicate your goals to your team, or you'll impede your team's success.
An influential marketing operating roadmap lays out your high-level marketing plan for your company's key stakeholders. It's an overarching roadmap for the individual plans that make up specific product launches, campaigns, and events. Roadmaps focus on the initiatives themselves instead of the specific details and tasks that make up a project.
A roadmap is also a useful reference tool. Its true value lies in how it can align the rest of your organization. It demonstrates your process and squashes any potential ideas that you haven't thought things through.
Leadership establishes the marketing team's objectives and guiding principles, which isn't always as obvious when considering specific tactics.
A well-thought-out product roadmap gives other teams a look at what the marketing operations team is up to. This insight proves that marketing activities are aligned with sales plans and product roadmaps.
Are you wondering why you need a roadmap if you've already developed a marketing plan? Keep in mind that most people in an organization won't read it if it's lengthy and static.
Components of a Marketing Operations Roadmap
What you don't include in your roadmap defines it almost as much as what it contains. Effective strategy roadmaps eschew individual marketing activities and specific dates. Rather, they focus on significant initiatives, their order, and critical dependencies or gating factors.
Each item on your roadmap should fall into one of three categories, which are analysis, execution, or evaluation. First, your team will research your target audience and keywords. Then, you'll run targeted ads. Lastly, you'll assess how your marketing campaign performed and use your findings to adjust accordingly next time.
However, specific ads, dates, and campaign channels are too granular for a roadmap.
You can include specific details in a tactical roadmap specific to that marketing initiative. This would be used primarily by the marketing team, as these details are unnecessary for an operations roadmap's audience.
To categorize your information and initiatives, use swim lanes to enable visual communication of your plan's elements. In this format, you can see how your marketing activities and initiatives—a significant benefit of presenting your strategy as a roadmap.
Basic Components
Every marketing operations roadmap should address the following basic components.
Workforce: The marketing operations team must ensure that each member is adequately educated and trained to be accountable for their work.
Processes: As one of the primary responsibilities of marketing operations, you must define, monitor, repeat, evaluate, and refine your key processes.
Technology: Your technology tools and systems will serve as the key enablers for creating a performance-driven team. Marketing operations is responsible for identifying, implementing, and deploying these enablers.
Performance Measures: You must also identify the standards and timeline for defining and implementing new metrics.
Budget Requirements: Your marketing strategy will require capital, so you must identify how much and the timing of any required investments.
Supplier management: To be successful, you will likely need to leverage the expertise of third parties. Identify and document the types of vendors needed, when you need them, and how they will support your road map.
Strategy
Your final roadmap should reflect your organization's strategy as well as your marketing initiatives. Initially, your organization's strategy will give essential context.
You can't create an effective roadmap without first understanding your company's primary vision and what your company believes marketing operations is responsible for. You can't develop a strategy without understanding your company's marketing goals and priorities.
If your organization doesn't have a formal strategy document, speak with the leadership team for guidance.
Assessment
If you don't know where you currently stand—including what your team is capable of—you can't determine where you need to go next or how you will get there.
Once you have information from your organization's strategy, you will need to access your team's current capabilities and performance. This step is when you will review existing data, processes, analytics, metrics, strategies, and best practices in planning your roadmap.
Roadmap
The final step is to develop a specific plan to close any gaps and leverage opportunities. You can do this by conducting a cross-function strategy session to identify requirements and elements to create a roadmap designed to build operational capabilities.
Types of Marketing Roadmaps
Marketing can be a vague term, so it's essential to define marketing within your organization and focus on the specific activities that will track with your roadmap.
You can structure your roadmap by month, quarter, or year, but it's the specific tasks that will make all the difference. Let's look at three types of marketing roadmaps your team might create.
Digital Marketing
Digital marketing is a broad term, but it's the core of most modern marketing initiatives. When balancing PPC ad management, email campaigns, and social media management, things can get complicated quickly. A digital marketing roadmap allows you better to coordinate your team's efforts across several marketing channels.
When it comes to traffic, ads are still the easiest way to get quick wins. The key to digital marketing success is having a firm grasp on your target personas and messaging.
With a clear, detailed digital marketing roadmap, you can add clarity and focus to your digital marketing strategy.
Search Engine Optimization
Search engine optimization (SEO) is a long-tail game. You must be patient to experience results, so having a clear vision is essential.
When you create an SEO roadmap, you will lay out all of the SEO-related tasks that will be performed throughout a project. These tasks can be as simple or complex as you wish and will help ensure project continuity (as long as you actually plan to use them).
With an effective SEO roadmap, you can plot out your key initiatives ahead of time. These could be on- or off-page optimization, backlink generation, or content creation.
Whatever your strategy is, a roadmap will help you visualize and comprehend your SEO efforts' strategic value.
Inbound Marketing
Your organization can't build organic traffic out of thin air. It's the result of a clear inbound marketing strategy—usually in the form of a content calendar.
Your inbound marketing roadmap will help you plan out a year's worth of content. This initiative will help you understand your growth and give you opportunities to plan out seasonal content.
Many organizations have several channels to develop content for, so a roadmap will help you understand what results you're getting, where, and why.
Defining Your Internal Audience
If you're ready to create your marketing operations roadmap, the first step is to define your internal audience. Everyone across your organization will benefit from greater visibility into your strategic marketing efforts; however, each team will have a different interest based on how the plan affects their work.
Executive Leadership
Your executive leadership is most concerned with how your marketing operations initiatives and campaigns fit into the corporate strategy.
It's essential to present your planned efforts in context with your strategic marketing goals. This will help you show executives how your work will impact your business.
Customer Support
Anyone who has direct contact with your target audience should be familiar with any marketing messages so that they can anticipate customer response.
An email campaign, for example, may lead to a barrage of tickets. Sharing your operations roadmap that includes specific activities with the potential to affect customer outreach will help your customer support team prepare.
Development
Any marketing tasks that impact your organization's overall technology infrastructure should be on your IT team's radar.
If you're planning to implement a new marketing automation system, for example, you should create a roadmap that keeps your IT team in the loop.
Sales Team
Your sales team should know which marketing initiatives happen when. Sharing key events (such as a tradeshow or webinar) and the availability of new tools through a roadmap is ideal.
Product Team
Your marketing team should work closely with your product team to drive effective product launches.
A go-to-market roadmap coordinates the timing of product launches and marketing campaigns so you can maximize any promotional opportunities.
Marketing Team
Finally, your entire marketing team will benefit from a plan that outlines what you want to accomplish and when.
Visualizing upcoming activities on a roadmap will improve communication and collaboration. It also focuses your marketing team on what's required to achieve strategic marketing goals.
Your next task is to whittle this list of stakeholders down a bit to understand what your audience truly cares about.
Remember, a roadmap isn't really for the marketing operations team. You must tailor it to inform essential teams about your strategy and answer any questions they have.
Each set of stakeholders has a unique set of motivations. Each team cares about the company's overall success, but they're focused on individual aspects of it. Keeping that in mind will inform what you include on your roadmap and how you position it for optimal results.
Setting Objectives
When we discuss setting your objectives, we're talking about the overall aim of your roadmap. Are you seeking investment? Looking for an additional budget? Providing an update or requesting resources?
Whatever your objectives are, you intend to reach them at the end of your roadmap, showing how the initiatives will net results that matter to your stakeholders.
Define the focus and scope of your roadmap early in the process. Always leave more room for detail for short-term plans rather than less-certain future possibilities.
Ground It in Metrics
Each aspect of your business depends on marketing initiatives for success or to improve profitability.
Match each objective in your roadmap with OKRs, KPIs, and other metrics that your entire organization is working toward. This demonstrates that your marketing operations team isn't going rogue but working with the organization.
Metrics will show the money and effort spent on initiatives so that the roadmap has an obvious purpose.
The ability to measure the impact your marketing initiatives have on your goals is an additional benefit. Quantifiable results justify your associated spending, which validates your team's approach.
Think about your ultimate goal, and then list all of the tasks that you'll need to achieve to reach it. Use this exercise to start conversations with other essential departments, and don't worry about your list growing too long—use the ideas for future roadmaps.
Your quarterly roadmap goals will have a direct impact on your key performance indicators for the year.
The Importance of Accurate Data
When establishing quarterly marketing roadmaps, accurate data is essential. You must document results to build long-term confidence among your team and leadership.
When assessing inbound marketing efforts, you can use real-time data to inform the next steps. If you see something that seems off, you can slowly implement change over a three-month period rather than looking back a year from now to ask what went wrong.
For example, if your organizational goal is to increase your pipeline, you may need to:
Build or grow nurture engines
Automate sales activities and sales-to-marketing workflows
Ensure accurate campaign tracking
Build dashboards for end-to-end visibility
Wrangle data for better targeting
Now you must give each goal a numerical value and timeline. For example, you may wish to:
Increase website conversion rate by 0.50% by the end of Q2
Increase the monthly rate of marketing qualified leads (MQLs) by 30% by the end of Q2
Increase newsletter subscribers by 15% by the end of Q2
Utilizing Internal Resources
No marketing operations roadmap should be created and conducted in secret. Your strategy should be collaborative and tap into the insight of internal resources. This collaboration creates opportunities for smooth sailing marketing efforts through previewing and conversations.
First, establish who will sign-off on your marketing strategy. Understanding which stakeholders make this decision will shape your process and associated content. Meet with these critical individuals early to have essential conversations and avoid surprises later in the year.
Beyond these conversations, leverage your internal experts. Instead of taking a "not invented here" approach, incorporate internal subject matter experts' wisdom to craft a thorough product.
Once you've done this, your next step is to assign specific tasks to your marketing team members and help them achieve their goals. While one member might be in charge of auditing contact lists, another may redefine the current workflows in place for email campaigns.
Team members will check off these tasks as they are complete. And because your roadmap is located in a centralized place, the marketing operations team can view the project's status at any time.
Deciding on a Format
We've already established that many people grasp an overall picture more efficiently in a visual format. Use your marketing roadmap to provide actionable steps that come together as a goal. It's a handle tool to use when you're tasking your team to execute a marketing strategy.
Since the approaches are the same, marketing and product roadmaps often look similar. In both scenarios, you're working towards a result by breaking down a larger project (your organization's overall strategy) into smaller deliverables (such as content creation, social media marketing, brainstorming sessions, blog post ideas, and outreach campaigns).
Roadmaps are highly visual and light on text, so the style you select will play a role in your roadmap's reception and usefulness. To create your roadmap, use a flexible tool to support multiple formats, not to get locked into a specific approach.
You must decide whether you will use a timeline, a take on one, or adopt a list (swimlane) format. Your visions should determine this choice. You may have a clear order of operations that will read better on a timeline or discrete action items that will be better worked on independently.
There is no right or wrong way to approach a marketing roadmap, as long as it ultimately fits into your organization's strategy. How you choose to break down tasks, and layout milestones will depend on your marketing strategy elements.
Some general rules to live by when creating your roadmap layout include:
Add a bar for each task or activity
Group bars by team or initiative
Sort bars by start date or priority
Stack bars by channel or type of content
Many teams find that color can help categorize tasks by priority or status.
Above all, remember that roadmaps are intended to be living documents. Things don't always go entirely to plan, especially in marketing, so color-coding will help communicate how your strategy is truly progressing.
Examples
You now know that your marketing campaigns must tell the story of your brand or product, but how will you structure this?
Your marketing roadmap will help you layout your initiatives, and you have quite a few options. Will you focus on the goals of your tasks or the tasks themselves?
When looking at everything at once, it's easy to get confused, so examples tend to be helpful. Let's discuss three marketing roadmap structures you can follow.
Category-Based
It's easy to design a roadmap if you do so through the lens of your tasks.
Each of your tasks will land within a category and can be sorted. Backlink generation or guest blogging, for example, might fall under "SEO." Repositioning a piece or rewriting web copy may be "Positioning," and so on. Assign tasks to their specific categories so that your organization gets a comprehensive look at your marketing roadmap.
Individual-Based
It all comes down to this: any roadmap will succeed or fail based on those leading the initiatives.
If you wish to understand your team's workload better, you could structure your roadmap based on team members. Looking at your strategy in this way allows teams to see the tasks they're completing both together and individually. This strategy is useful in increasing engagement and accountability across the board.
Time-Sensitive
If you're up against the clock and rushing a project to the finish line, your marketing roadmap can be a valuable asset. Sure, the roadmap is supposed to prevent these occasions, but they're inevitable. Your roadmap will keep you focused on the timeline so you can get things done.
A time-sensitive roadmap set up based on due dates allows you to see which tasks need prioritizing, even when it's not due yet.
Roadmap Assessment
If you design a quarterly roadmap, you'll have much more flexibility than you will with a yearly plan. You can make changes within your roadmap if you're tracking required results along the way to discern how your team is doing.
It's essential to assess progress mid-quarter to identify clear strengths and weaknesses and then discuss any necessary adjustments. Two weeks before the end of your timeline, assess your results-to-date to determine what you'll do the next quarter.
If it's clear that you are leaps and bounds ahead on a specific goal but need to keep the momentum going, you can choose to focus on it for the next period, as well.
Adjust your marketing tactics in the next period if your efforts don't come to fruition. Or maybe you start over with an entirely new process. That's the advantage you gain with the quarterly approach to road mapping.
With this approach, you can clearly define your next 90 days to be more manageable for your team. This roadmap can energize your team. If they're excited about making a difference, you can see measurable results over the next quarter.
It's Time to Assemble Your Marketing Operations Roadmap
If you've never created a marketing operations roadmap before, it may seem redundant and necessary initially—but that's far from the case! Having a single, at-a-glance plan and source of truth for your organization's marketing strategy offers tremendous value.
Once you have a reliable roadmap to follow, you likely won't need to make any changes. Sure, your tactical decisions may vary, but your overall strategy will remain relatively static. You will probably only tweak your roadmap every quarter or so.
And perhaps the biggest perk is that you won't have to start from scratch. Here, you'll find professional marketing roadmapping tools, tips, and tricks to help you focus on content instead of wasting hours with trial and error.